Top Ten Tuesday is a weekly meme hosted by The Broke and the Bookish. This week's theme is: Top 10 recommendations for taking College Romance 101
---
This week I would like to share with you my required reading for taking College Romance 101. These books are on my TBR that take place in college and involve romance. Please note: these are New Adult reads and are intended for mature readers alone. Sexy times are in all of these listed below.
*Clicking on the book cover will take you to its Goodreads page.*
Synopsis:
This is about a girl who really wants to be with her friend, Jake. He only sees her as a friend and it drives her nuts. Then a betrayal happens that blindsides Fin. Enter Brody. Brody makes Fin feel things she hasn't felt before, but he has a past that gets in the way of their relationship.
*The kindle edition is currently free on Amazon*
---
Synopsis:
19 year old Avery has traveled thousands of miles away to college to escape an event that happened at a Halloween party five years ago. There she meets Cameron who makes her want things but isn't ready for. She tries to avoid him but he seems to pop up everywhere so she eventually gives in. Avery starts receiving threatening emails about what happened at the Halloween party years before and is forced to confront her past.
---
Synopsis:
Bliss decides to have a one night stand before going off to college. What started off as a simple idea turns out to be complicated. Bliss freaks out and leaves the man in her bed. As she goes to her first class, she immediately recognizes the professor as……you guessed it….the person she left in her bed that morning.
---
Synopsis:
Anna Jones just wants to finish college and figure out her life. Falling for star quarterback Drew Baylor is certainly not on her to do list. Confident and charming, he lives in the limelight and is way too gorgeous for his own good. If only she could ignore his heated stares and stop thinking about doing hot and dirty things with him. Easy right?
---
Synopsis:
She expected to start Harkness College as a varsity ice hockey player. But a serious accident means that Corey Callahan will start school in a wheelchair instead.
Across the hall, in the other handicapped-accessible dorm room, lives the too-delicious-to-be real Adam Hartley, another would-be hockey star with his leg broken in two places. He's way out of Corey's league.
Also, he's taken.
---
Synopsis:
With Olympic tryouts on the horizon, the last thing nineteen-year-old Kinsley Bryant needs to add to her plate is Liam Wilder. He's a professional soccer player and America's favorite bad-boy.
Not to mention Liam is strictly off limits . Forbidden. Her coaches have made that perfectly clear. (i.e. "Score with Coach Wilder anywhere other than the field and you'll be cut from the team faster than you can count his tattoos.") But that just makes him all the more enticing…Besides, Kinsley's already counted the visible ones, and she is not one to leave a project unfinished.
---
Synopsis:
Dallas Cole loathes football. That's what happens when you spend your whole childhood coming in second to a sport. College is her time to step out of the bleachers, and put the playing field (and the players) in her past.
But life doesn't always go as planned. As if going to the same college as her football star ex wasn't bad enough, her father, a Texas high school coaching phenom, has decided to make the jump to college ball.
Carson McClain is determined to go from second-string quarterback to the starting line-up. He needs the scholarship and the future that football provides. But when a beautiful redhead literally falls into his life, his focus is more than tested. It's obliterated.
Dallas doesn't know Carson is on the team. Carson doesn't know that Dallas is his new coach's daughter.
---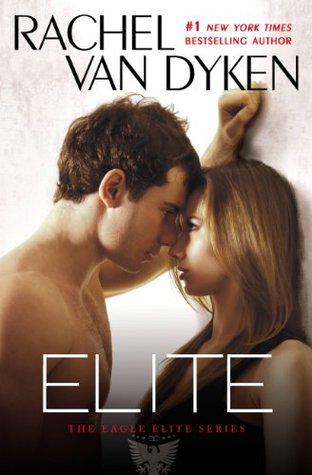 Synopsis:
For Tracey Rooks, life with her grandparents on a Wyoming farm has always been simple. But after her grandmother's death, Tracey is all her grandfather has. So when Eagle Elite University announces its annual scholarship lottery, Tracey jumps at the opportunity to secure their future and enters. She isn't expecting much-but then she wins. And life as she knows it will never be same . . .
The students at Eagle Elite are unlike any she's ever met . . . and they refuse to make things easy for her.
---
Synopsis:
Welcome to Palm South University.
The weather isn't the only thing heating up in South Florida. At a school where fraternities and sororities don't exactly play by the rules, relationships are bound to be tested.
Follow Cassie, Bear, Jess, Skyler, Erin, Ashlei, and Adam as they tackle college at a small, private beach town university. Written in television drama form, each episode of this serial will pull you deeper and deeper into the world of PSU.
---
*Last but most certainly not least, I HAVE to mention the Off Campus series by Elle Kennedy. I've read all but book 4 of this series and they're each beyond amazing. My favorite would be book 1 with Garrett. I call DIBS!!
This series is HOT, HOT, HOT!!!! It follows 4 college roommates who all play hockey.
The synopsis for The Goal (Book One) is:
Hannah Wells has finally found someone who turns her on. But while she might be confident in every other area of her life, she's carting around a full set of baggage when it comes to sex and seduction. If she wants to get her crush's attention, she'll have to step out of her comfort zone and make him take notice…even if it means tutoring the annoying, childish, cocky captain of the hockey team in exchange for a pretend date.
…and it's going to be oh so good
All Garrett Graham has ever wanted is to play professional hockey after graduation, but his plummeting GPA is threatening everything he's worked so hard for. If helping a sarcastic brunette make another guy jealous will help him secure his position on the team, he's all for it. But when one unexpected kiss leads to the wildest sex of both their lives, it doesn't take long for Garrett to realize that pretend isn't going to cut it. Now he just has to convince Hannah that the man she wants looks a lot like him.
*Make sure you don't read the other synopsis because of spoilers. 
---
Whew, does anyone need a glass of water after reading about all these books? If you've read any of these, please let me know what you thought (excluding spoilers please). I'd also love any other college romance recommendations. Sports romances are my favorite 🙂 Hope you all enjoyed this edition of Top Ten Tuesday. Have a great day!