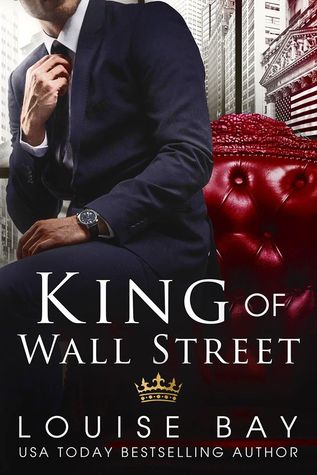 King of Wall Street by Louise Bay
4 Stars
Hot, Hot, Hot!!!! This was a very steamy read!!! I have yet to read this author before but I was definitely a fan of her work! I'm a sucker for office romances and alpha males so this was the perfect read for me!!
Max King was known as the King of Wall Street. He had this confidence about him that was beyond attractive. I will say it was quite strange how Max was the King of the office but was pretty much clueless when it came to women and dating. I think he spent so much of his young adult years working on his career, that he had no idea how to date or what women wanted. I don't think Max even knew what he wanted to be honest. Sure he had the hookup thing down pat BUT getting to know someone and spending time with them was an entirely different ball game.
As far as Harper goes, I loved her name. It's my favorite girl name at the moment. I loved how hard she worked. I loved how she didn't let an absentee father stop her from achieving her dreams. BUT I had some issues with her relationship with her father. Throughout the entire book, we are told her father did not care for her and just threw money at the situation to avoid any personal contact or effort. Then closer to the end, the situation comes to a head and we have the solution tied into a neatly wrapped bow. It was too perfect for me and did not coincide with what we thought this entire time. It also seemed a bit to rushed to wrap up the story line.
Max and Harper's whirlwind romance was so fun to watch. I loved the playful banter they had with each other and seeing their feelings for each other before they themselves realized them. Have I mentioned how steamy this book was?! lol!!!
The epilogue for this one blew me away. I loved reading it and seeing what was going on with our characters. Please let this crew be included in the other books for this series.