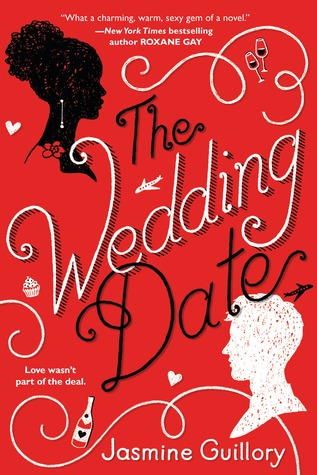 The Wedding Date by Jasmine Guillory
2 Stars
*I received a copy of this book from the author/publisher in exchange for an honest review.*
I have pretty strong feelings on this one. I really thought it was going to be this happy, go-lucky book and it just wasn't. We meet Drew Nichols, he is a groomsmen for an ex-girlfriend's wedding. His date to the wedding backs out last minute and he's desperate to find a replacement. Enter Alexa Monroe. They just happened to meet on an elevator in a hotel and when the elevator gets stuck, they hit it off. Drew asks Alexa to accompany him….and there the story begins.
First off, I really enjoyed this being about an interracial couple. I think we need more of these stories to be honest. I also liked that this book touched on deeper subjects while still keeping it light. Sometimes when books discuss deeper subjects, the tone changes and you just feel a shift. That wasn't the case in this story. I feel like we were taught some things and didn't even realize it was happening.
This couple had some real issues with self doubt and self consciousness. Their thoughts ran rampant the entire book. They constantly played what if scenarios and it was exhausting. Trust me, I get it. I'm the queen of what if scenarios, but it got to be what the entire book was about.
My major issue was Drew. Could not stand the guy whatsoever. Sorry, not sorry. It felt like all he wanted from Alexa was…..bedroom time. Have a problem? Fix it with bedroom time. Don't want to talk?…bedroom time. He came off very immature but this was a grown man with a career. It takes time and dedication to become a doctor so I didn't get it.
Overall, I feel like Alexa deserved better. She is an amazing woman who deserves to be treated as such. I loved her character and learning more about her family, friends, etc. She was the star in this one for me.